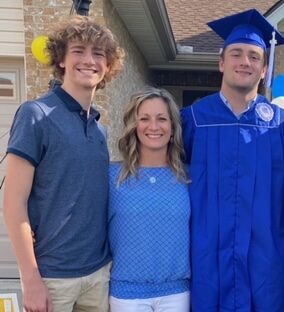 Congratulations to Shawnda VanDeHatert, PT, MPT, for being the recipient of the Driven By Purpose Award for the 4th quarter of 2020! Shawnda is the most tenured therapist at Rehab Resources, Inc. (RRI), where she joined in May of 2005 and is currently serving as the Director of Clinical Services. Shawnda always leads by example with her support of RRI's overall mission and has gone above and beyond for RRI during this incredibly challenging year, whether it has been through working with new customers or picking up extra work on weekends or after hours to ensure our current customers have never been without support. We can always count on Shawnda, especially at times when we need a "win"! Shawnda demonstrates Leading With Talent through her interactions not only at work but with her sons, Logan and Aiden. Thank you for all your contributions to Rehab Resources' success! CONGRATS SHAWNDA!
Here is an interview with Shawnda to learn more about her:
Proud personal/family info.
Most proud of my boys and the wonderful young men they are becoming.❤

Before working for RRI, what was the most unusual or interesting job you've ever had?
I worked at Hot Dog on a Stick right out of high school…big hat and all.

Best vacation spot you've been to?
I went on a liveaboard scuba diving trip to Eleuthera and Exumas.

Describe what you were like at age 10?
I was a shy little girl who loved listening to Duran Duran, ice skating, and spending time with my friends.

What aspect of your job do you like the most?
"Helping people" sounds a bit cliche, however, that's truly what I enjoy…being able to relate to my pts and provide them with strategies to increase their mobility and quality of life.

What is one thing on your bucket list?
I would love to experience a rainforest tour.