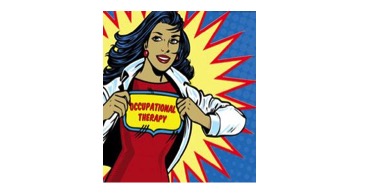 The Powers of Occupational Therapy
As therapists, we work together frequently. Sometimes we are aware of what each other do, and sometimes we can't fathom what each are working on with their clients. The important part, however, is that our clients and their doctors are aware of our goals and how we can improve our clients' lives. The American Occupational Therapy Association (AOTA) has created a nifty handout to provide to those interested in what Occupational Therapy (OT) can bring to their lives (or patients). Such as activities of daily living (ADL) therapy for those suffering from strokes, Parkinson's, low vision, and Alzheimer's.
Know someone who could benefit from improved driving abilities? OT can help with that! Know someone who would like to remain in their home, but would like to reduce their risk for falls? OT can help with that too! Click here for a handy evidence-based printout detailing all the great ways Occupational Therapy can help people today!