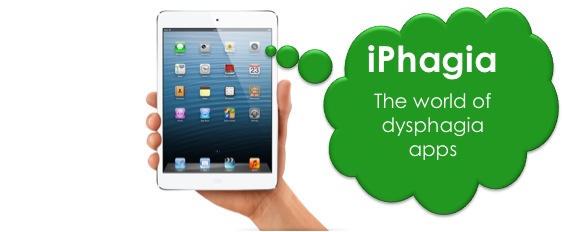 iPads + Dysphagia Therapy = iPhagia Therapy
Dysphagia is one of those areas of therapy that can be difficult to explain to your patient, caregivers, and other professionals. And assessing dysphagia is an ever evolving creature. Moreover, buy-in from the patient and caregivers is critical for the success of dysphagia treatment. So how can you make this process more visual and interactive? Apps of course!
Tiffany Wallace, an SLP in an acute care hospital, explores several different apps created to help you succeed.  In her blog, she discusses ways to meld itechnology into your dysphagia therapy by breaking down helpful dysphagia apps, their prices (several of which are free), and why they may be helpful to you.
Apps included are: Evernote, Dropbox, Dysphagia2Go, iSwallow, Lingraphica, iLarynx, Pill Identifier, 3D Brain, Lab Tests, and more.
Another app to consider is the Northern Speech Services app called Dysphagia. This app provides animated illustrations of the different phases of the normal swallow, examples of common impairments in different phases, and the ability to view the swallow from different viewpoints.
Appy exploring!